By: John Armstrong
I am always open to watching new movies, TV shows are the media forms I am skeptical to watch; it takes longer to get into to decide if you are interested or not but when watching a movie you either like it or you don't. American Beauty is a 1999, Drama, Romance film. This movie is a film I had to watch in one of my previous film classes that I thought was a great movie.
Right from the beginning of the movie there is a shot from an handheld camera, you could tell it was the view from a camcorder. A girl (Jane) saying how much she hates her dad, the neighbor (Ricky) asking her if she would want him to kill him for her and she says yes.Throughout the entire film every character has their own obsession with something. In my opinion I believe the obsessions in the film is what makes it more interesting.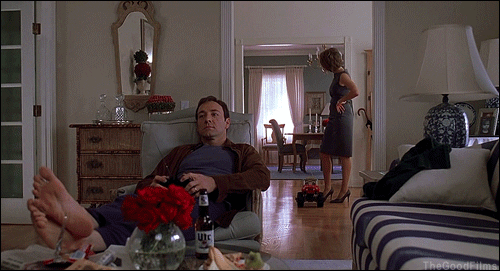 Lester Burnham (Kevin Spacey) is a 42-year-old father, husband and advertising executive who serves as the film's narrator. Lester's relationship with his wife Carolyn (Annette Bening), an ambitious realtor who feels that she is unsuccessful at fulfilling her potential. Lester and his wife are both sick and tired of each other and seem to be together only for their daughter.
Throughout the film, Lester has fantasies involving a sexually aggressive Angela and red rose petals.